My name is Liana Orin Soffer.
I am a doctor (M.D.), mentor and therapist in many methods:
Clinical Hypnosis,
Classic Homeopathy,
Suojuk - Korean acupuncture,
Guided imagination,
Reincarnation and intra-reincarnation,
Theta-healing,
Meta-physical and spiritual medicine, energetic balancing and variations of alternative medicine.


I use my method - Lilian method - a method where I combine the various methods of treatment.

This website was built with a special purpose – advancing an idea of healthy and happy life.

liana_a@012.net.il
972-52-3267073
972-3-9339026
Israel, Petah Tikva
---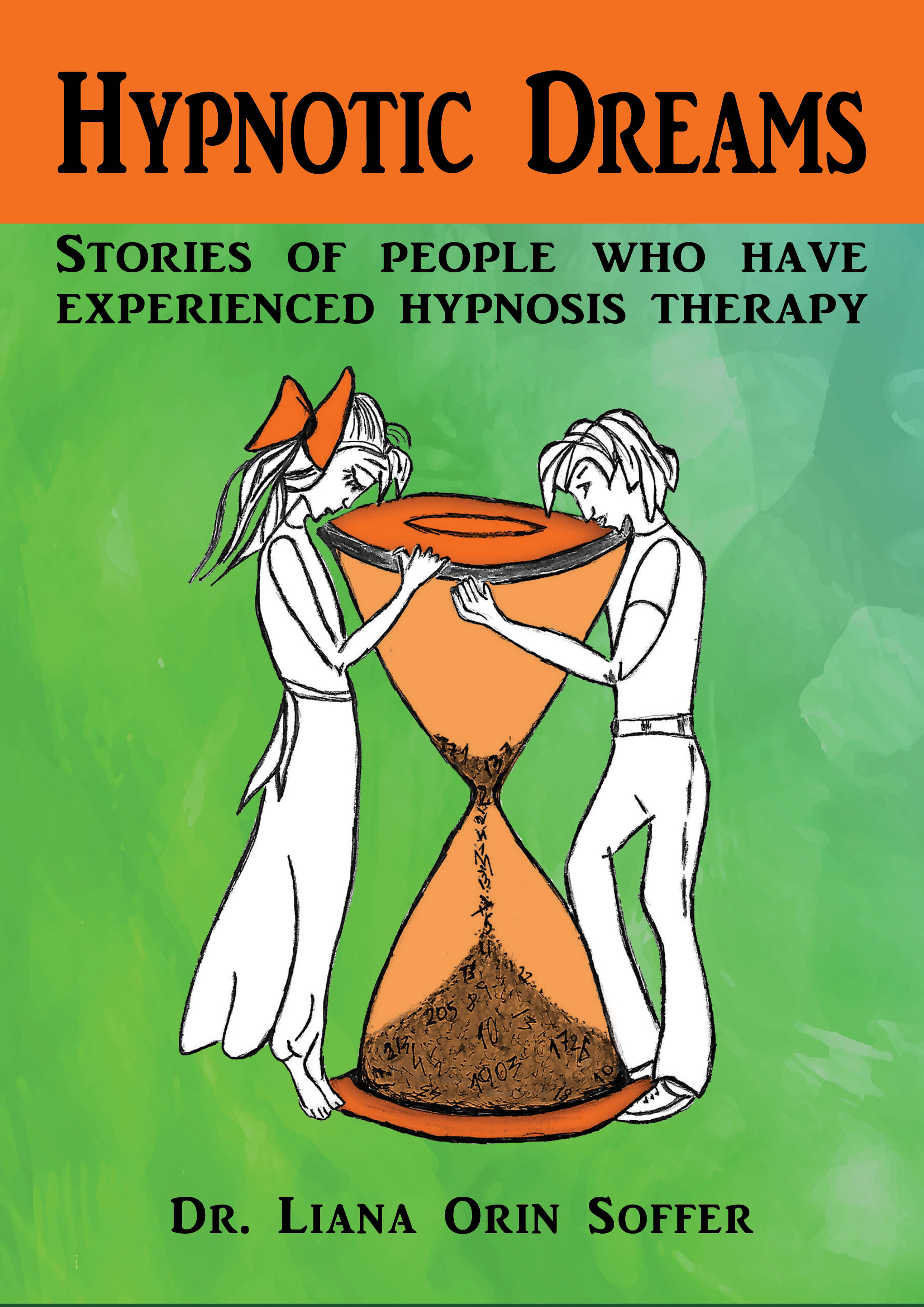 My book "Hypnotic Dreams".
Now available in 2 formats - digital and paperback in Amazon.
Press
here for download
What is hypnosis?
How can it be utilized to help us connect with our subconscious?
How can we go back to our childhood and even our previous incarnations?
How can we overcome destructive behaviors that ruin our lives?
How can we help children with behavioral problems with the aid of hypnosis?
How can we find the role of the higher soul and communicate with it? How can we create a happy, peaceful and joyful life for ourselves.
These are only some of the questions answered in "Hypnotic Dreams."
It's a new, unique, fascinating book, which presents the real-life stories of people who have undergone and have enriched their lives through hypnosis treatment.

---
Presentation in Sorrento Hypnosis Congress 2014
This is the link to download directly the video:

Copy it on the new browser then just right click and choose download
http://bit.ly/1yoNZYn
---
Hypnosis for Children – Why parents are afraid of hypnosis and relaxation?
Classic homeopathy for children.
Why are people afraid of using hypnosis and relaxation on children?
People speak out of lack of awareness in the subject.
Treating children is simpler and easier because they are still "clean" of baggage and mental block that are typical with adults.
Usually children come with a specific problem that is usually easy to solve. On the other hand adults carry heavy and complicated
loads that they repressed all their long lives.

What is the difference between children's treatment of relaxation and hypnosis versa
the same treatment on adults?

Children's treatment is shorter and requires less sessions. Each adults' treatment takes about 3-10 sessions, whereas with children the treatment can end after the 3rd session (it depends on the child's age, problems, the hypnosis ability and the child's will to cooperate).

Sometimes children don't close their eyes during the session, but they can relax and visualize. Mostly, children agree to close their eyes but they open them a few minutes later and close them again and so on.

Children's experiences are 5-10 minutes long, but they are very strong experiences and have a great contribution. Whereas a grownup's experience can be 30-45 minutes long.

Children, usually, tell everything (generally under 5 years old), including their problems and everything that disturbs them. A child doesn't hide thing, doesn't try to deceive, something that can happen with adults. Children have trust; they are not suspicious and rely on the therapist. There are methods that help us get important information even from a small child. The parents find it hard to reach such information because of emotional border between their child and them. Adults set many borders and don't give important details easily. It is easier to diagnose a child then an adult.
Why parents are afraid to bring their child to hypnosis/relaxation with visualization therapy?



There are many reasons for this fear: prejudice, lack of awareness, all kinds of fears…
The most common fear is that one will not awake from the hypnosis/relaxation.
This fear is not relevant with children because children usually stay with their eyes open through the session or open them occasionally.
Children's relaxation is not very deep.
While treating children up to 10 years old I ask one of the parents to stay in the room with us,
sit near the child and hold his/her hand.
It is very important especially in the first session. After a certain age the child asks
his parents to wait out of the room so he can open up comfortably.
99% of children's problems are derived of parents – children's interaction.
The subject is described in my second book "Where is my bed?"



When we use Hypnosis/Relaxation to treat children?

Enuresis - urinary incontinence

hyperactivity and violence

learning disabilities

siblings jealousy

Difficulties in adaptation to the environment

Behavioral abruptness

Mood changes

Fears of the dark, monsters, dogs, shots injections etc.

Getting rid of pacifier or diaper

Nightmares

Over eating, obesity

Denying food
Fears
are usually easily treated. Mood changes and lack of motivation are treated successfully,
especially when we are getting to the root of the problem. Anxiety,
fears and nightmares can be treated, especially if it was a temporary or continuous traumatic
factor/cause. It is easier to treat a temporary traumatic factor.
Problems of urinary incontinence are solved using a few methods including metaphors.
I told one story about urinary incontinence in my book "Where is my bed?"
I recommend reading the stories from the book to 2 years old and up.
Stammering problems can also be treated with hypnosis. The outcomes of the treatment depend
on the length of the problem.
If the stammering is continuing many years and worsens with time, achieving full recovery is hard,
but the general condition can get better. A child can learn to control the stammering
and even prevent its appearance in critical situations.
Many times stammering child has a stammering family member.
In a case like this we are dealing with unconscious copying and the treatment is easier.

In my first book "Hypnotic Dreams" I described a fascinating study case of a successfully treated
stammering young boy with sleeping problems, frequent awakening and nightmares.
In cases where the child doesn't remember the scary dream we can use special treatment
methods to reveal the repressed reason that causes the fears and nightmares.
It is important to know the dreams' essence.
In most cases this is possible by processing the dream.
Eating disorders, lack of appetite, obesity or refusing to eat can be successfully treated.
The earlier the child is referred to therapy - the better chance of success.
Behavioral problems as refusing to go to kindergarten or school, social problems,
problems with siblings or parents,
jealousy between siblings, violence and anger - all can be treated with hypnosis and guided imagination.
Teenagers have many social problems. As a result they sometimes drop out of school or develop depression.
I have treated teenagers with social problems. In some cases only Hypnosis can solve the root of the problem,
especially in cases of teachers or peers abuse is involved.
We can use different methods to strengthen the child, make him feel secure, help him stay in existing frame
and function normally or change the frame he is in.
When a social problem exists within the family it is harder to reach a successful treatment
because the problematic core is still there and the child has to deal with it on a daily basis.
If the problem is not eradicated we can only suggest mental support. For example,
if a family member is physically, sexually or mentally abusing the child and the child can't get away
from the abuser or prevent an action, we must involve social services. After the abuser is restricted
we can start a therapy to heal and rehabilitate the abused child.


The child that stopped eating


Once I treated a child that stopped eating solid food after a traumatic event.
During dinner a piece of bread was stuck down her throat.
She became very stressed. Because of this event she developed serious eating anxiety
and ate only liquid food (especially smoothies). The first time she came to therapy was after
one year of liquid food which caused severe lack of vital vitamins and essential nutrients.
She was suffering of malnutrition. She was on the verge of being hospitalized involuntary.
All made her anxiety even worse. After 4-5 sessions the child started eating again and was back to regular behavior.
The treatment freed her from the trauma and anxiety. Every other treatment the child received earlier didn't give her
a dignified attitude or considered her needs.
Because of pressure from the parents and/or the therapists the child is being severely forced to eat as well
as being frightened by being on the downhill road towards death.
Involuntary commitment is a last solution because it is denying freedom of the child.
It is justified only in life saving cases.
I have to say that nowadays it is used in many cases of eating disorders without trying
other potential treatments such as hypnosis and classic homeopathy.


Attention deficit disorder
I treat a lot of children with ADD. In my book "Where is my bed?" I described in details all the causes of the disorder.
There are cases where the diagnosis is not correct, especially when Hyperactivity is a dominant.
I usually make the pendulum test to check the concentration ability.
Children that are diagnosed as ADHD can concentrate and get hypnotized.
This indicates that we are not dealing with a deep or congenital problem but an acquired one.
Sometimes a child can concentrate for a short time but he can still relax very well.
Just as there are children that like to learn and children that don't. Lack of patience can lead to difficulties in school.
We must differentiate between the different problems and treat them correctly. We want to make an interest
in the studied material, awake the child's curiosity and expose him to the wonderful world of knowledge.
Unfortunately, the children are given Ritalin pills thus suppressing their healthy instincts.
I really object to giving Ritalin. I think this is an upper drug. Children have many side effects.
Ritalin can get addictive and raising the dosage is occurring in order to maintain the long term effect.
Sometime the influence of Ritalin can stop. Because of the education system's pressure on the parents,
they break and give the child Ritalin. In most cases the drug makes the kid sit quiet in the class room
and there for not interfere the teacher.
The parents must be aware to all these things. In some cases the parents need to understand
that their child doesn't like to study or really has learning difficulties. After graduation a person will turn to whatever
he is gifted with and loves doing like dancing, arts, building etc. We as parents must see and let our children
go in their path and not give them medicine to blend in the stream. A healthy and happy child is preferred over
a sick and unhappy one.
Not everyone is to become scholars.
We have to remember that children are not supposed to fulfill their parent's dreams that in their own time weren't
successful in class and prey for their child's success for themselves.

The treatment has better outcomes at easy and medium cases. In case the child can't sit quiet and
can't become relaxed I'll first give a Classic Homeopathy remedy. Usually it helps. It is important to get relaxed
so one can lie down or sit in an arm chair and stay at least 5 minutes quiet with eyes shut.
When the child is calmed I start the relaxation.


How to specify a Homeopathic treatment?


Sometimes parents tell me they already tried Homeopathic remedy and it didn't make a change.
To determine if a treatment helped or not we have to check some factors:
1. Who is the Doctor that gave the remedy? Classic homeopath, Modern Homeopath,
Toxic-Homeopath, general therapist etc.
2. Who prepared the remedy? Was it prepared according to a prescription or bought in a pharmacy
as a shelf remedy that suits all children with ADD. That is wrong.
Classic Homeopathy is equivalent to conventional medicine.
It's very powerful and can create miracles. Sometimes it can work where the conventional medicine doesn't.
3. How do you suit the correct remedy? A trained and professional Classic Homeopath can
suit one of about 3,000 remedies.
The remedy is suited considering all the child's symptoms and personality and not necessary
according to the conventional medicine diagnosis.
4. Was the remedy given by a Classic Homeopath? One shouldn't reject a remedy because
in the past child has taken a Classic Homeopathic remedy and there were no results.
Maybe the former remedy was given according to the Modern Homeopathy.
It is also a powerful method but relates to a blend of Homeopathic preparations whereas in the
Classic Homeopathy
only one preparation is given.
Maybe the child was given a shelf remedy that is intended for minor problems; maybe the child
was given toxic-Homeopathic remedy?
It has a different mechanism. It is usually a symptomatic therapy.
The child may have received Classic Homeopathic treatment
that didn't work but one should not jump to conclusions.
You should always try.
Homeopathy takes time. Sometimes the therapist doesn't give the correct remedy at the beginning.
It is correct to all Homeopathic therapists. Of course an experienced therapist can be more
successful than his beginner peers.
When a Classic Homeopath is an M.D. the advantage is clear.

In my first book "Hypnotic Dreams" I gave an expanded explanation about
homeopathic remedies and their influence on patients.
I brought an interesting study case of a fellow treated with a homeopathic remedy
combined with Hypnosis.
The parents must try to utilize to the fullest the natural methods before they turn to Ritalin,
and strongly oppose to it because it is not a lifesaving medicine.
As I see things there is no justification to use psych-effective drugs on children.
It is preferable to not treat ADHD at all than to give a drug like Ritalin.


In what cases relaxation is not achieved with children?


There can be a problem when treating a small child or a child with very low ability
of concentration, or a very hyperactive child.
Children under 2.5 years don't always communicate although I had some success with small children.
The youngest child that came for therapy was 2 years old. He had eating disorders, behavioral
problems and bad constipation.
After 2 sessions he felt a lot better and he healed.

How successful is Hypnosis therapy?



I have been asked many times how successful is the hypnotic therapy with guided imagination?
This is not a relevant term.
I can have 1% success while my peer has a 100% success. One didn't manage to heal while
the other was cured of his 20 years anxiety.
Treatment's success is not measured in percentage. Hypnosis therapy is not like
a medical or surgical treatment.
Hypnosis requires patient's cooperation and the ability to be hypnotized. This is the first stage.
If the patient can get to a good relaxation the odds are better. Cooperation with trust increases success.
The patient has to devote to the therapy and be opened to all options. In case of blockage
or resistance the treatment can fail.

Which factors increase the success of Hypnosis treatment?


1. Good relaxation and concentration abilities
2. Faith and hope in the therapy
3. Cooperation with the therapist
4. Prepared to be lead by the therapist
5. Openness and flowing ability with the therapy process
6. Commitment and devotion to the therapy process


Which factors decrease the success of Hypnosis treatment?


1. Low relaxation and concentration abilities
2. Resistance to the therapist and the therapy process
3. Apathy, skepticism and distrust in the success of the therapy
4. Lack of motivation
5. Many blockages and disability to open up and flow with the process
6. Lack of cooperation and (commitment) not being committed to the therapy process.

In addition, there are many secondary factors that have an influence on the outcome.
The longer the problem exists - the longer the therapy will take. If a trauma is the main cause
of the problem, the factor that determines the length of the treatment is how long the patient
was exposed to the trauma cause.
Many exposures to the trauma make the treatment longer.
For example, a 20 year old girl that was sexually abused by her father and keeps living in her parents'
house and being exposed to her father's presence.
(In case like this achieving high self-confidence and overcoming the trauma is very difficult.)
It will be very difficult to achieve better self-confidence and get over the trauma.
I always recommend to keep trying and not to say:
It is always recommended to try then to say "it won't help", "it's dangerous",
it's absurd to hypnotize a child" and give up.
What can we lose if we won't try?
We will lose the chance to get healed.
In order to succeed in Hypnosis and Homeopathic therapy with children it is important to
get acquainted with both parents.
Sometimes parents don't cooperate with the process thus prevent the child's healing.
When the patient is an adult the success of the treatment is dependent only on him.
With children, success is dependent on the child but more important is how
cooperative are the parents.
In many cases the child wants to succeed, cooperates but the parents decide to stop the therapy.
Sometimes it happens when the parents are expecting the therapy to be faster,
although the child is very happy
with his achievements.
Sometime the treatment stops because of a supposedly "money difficulty".
The child is under his parents decisions and that is acceptable.
Parents raise and educate their children and they are responsible for them.
I want to turn to the parents and ask them:

"Please listen to your children and go with them".
The patient itself knows while he is on the path to success. You can only gain from it.
All rights are reserved to Dr. Liana Orin Soffer. 2009
Contact information
:
liana_a@012.net.il
972-52-3267073
972-3-9339026
Israel, Petah Tikva